(Please bookmark this page and check back for updates at regular intervals)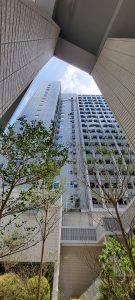 ____________________________________________________________
The Village is the fourth cluster of residential complexes in the University named after The Hong Kong Jockey Club in recognition of a donation from the Club's Charities Trust.
The project has been selected as one of the two pilot projects for adopting Modular Integrated Construction (MiC) in Hong Kong. Scheduled to be completed in the second quarter of 2023, the Village comprises 4 student residences, distributed in two 17-floor towers, to provide a total of 1,238 hostel places:
Residence 1: 312 places
Residence 2: 312 places
Residence 3: 312 places
Residence 4: D. H. Chen College 302 places
The Village is one of the student residences administered by the Centre of Development and Resources for Students (CEDARS).
Residences features:
Apartment-style unit featuring all single rooms
10 single rooms in each apartment unit with shared bathroom and showers
2 apartment units on each floor, with open common lounge areas and pantry at the intersection of the two apartments on each floor
Live-in Masters, Senior Resident Tutors, Resident Tutors, and Junior Resident Tutors for student support
24-hour security service
Student Amenities:
Students' residential experience in this Village will be complemented by an increased offering of shared amenities including multi-function hall, flexible co-working spaces, student activities rooms, quiet study lounges, games room, prayer's room, fitness and exercise room, laundry room, outdoor landscape areas, and a meditation room. Designed and built to create a vibrant living and learning environment, these amenities will be completed by the fourth quarter of 2023.
__________________________________________________________________
Lead Consultant:
Architecture Design and Research Group Ltd.
Quantity Surveyor:
Beria Consultants Ltd.
Main Contractor: P
aul Y. Construction Co. Ltd.
Last Updated: September 2023