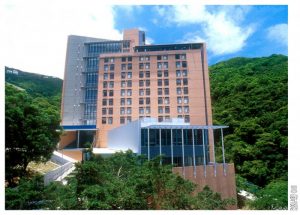 The Graduate House building, designed by renowned architect Mr. Rocco Yim and completed in March 1998, was awarded a Silver Medal – the highest recognition of architectural design excellence by the Hong Kong Institute of Architects. It is a composite building consisting of a residential complex and a non-residential complex.
The Graduate House postgraduate residence refers to the residential complex, which provides 188 single rooms and 9 double rooms for full-time postgraduate students of the University. All the rooms are air-conditioned and equipped with fiber-optics and WiFi computer networking facilities.
Each double room has a self-contained shower room whereas two single rooms share one shower room. There is a student lounge and pantry on every other floor, and a multi-purpose common room for all residents on Level P1, the common floor.
---
Facilities & Services
Single Room – 188 nos. (shared bathroom for every 2 rooms)
Single Room Size – about 10.4 m2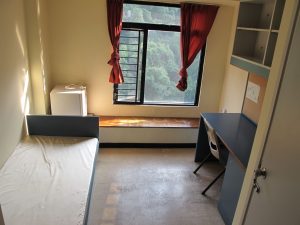 Double Room* – 9 nos. (self-contained bathroom)
Double Room Size – about 17.9 m2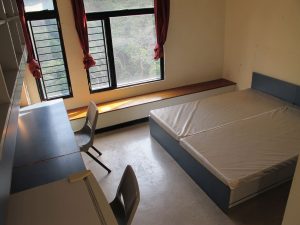 Residents are provided with basic furniture, a refrigerator and a computer point for access to the University network in their study bedrooms. All the study bedrooms are air-conditioned.
*Double Room is reserved for married couple only. Married couple who opt for double rooms will be required to present evidence of marriage before moving into the double room.
---
Defect Report Form for Graduate House
House Rules
---