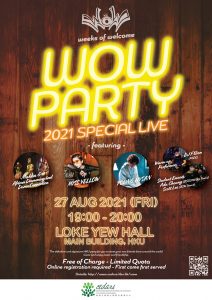 The definitive and signature HKU Party for new students with a Special Live edition for you before school starts. Our guest performers are going to fill the night with some cool music and energetic elements! Come join the party and enjoy the face-to-face interaction with new friends from around the world!
WoW Party – 2021 Special Live
Date: 27/8/2021 (Fri)
Time: 19:00 – 20:00
Venue: HKU Main Campus
Language: English
Free of charge with a limited quota!
Online registration is required on a first come first served basis!
Registration: https://www.cedars.hku.hk/wow