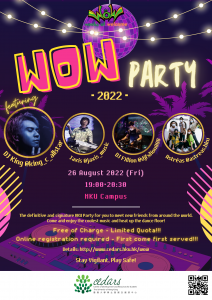 Move your feet and feel the beat! Join the definitive and signature HKU Party for ALL new students before school starts! DJ King (@king_c_allstar), Jaxis, DJ FXlion and Astréas are going to fill the night with the coolest music and heat up the dance floor! Come join the party and enjoy the f2f interaction with new friends from around the world!
WoW Party 2022
Date: 26 August 2022 (Fri)
Time: 19:00 – 20:30
Venue: HKU Main Campus
Language: English
Free of charge with a limited quota!
Online registration is required.
Registration:
For local students: http://wp.cedars.hku.hk/form/wowparty2022L
For non-local students: http://wp.cedars.hku.hk/form/wowparty2022